September brings some great moonlit scenery and this September brought a bonus with a Harvest Moon and a Lunar Eclipse! The photo to the left is just as the shadow was beginning to cross the moon. (September 27, 2015)
September 28th, a beautiful moon rises over the Laguna Madre Bay and the skyline of South Padre Island. It inspires the capture of enough photos to create this time lapse. To the left is the Queen Isabella Causeway, the 2.6 mile bridge that connects South Padre Island to the mainland and Port Isabel.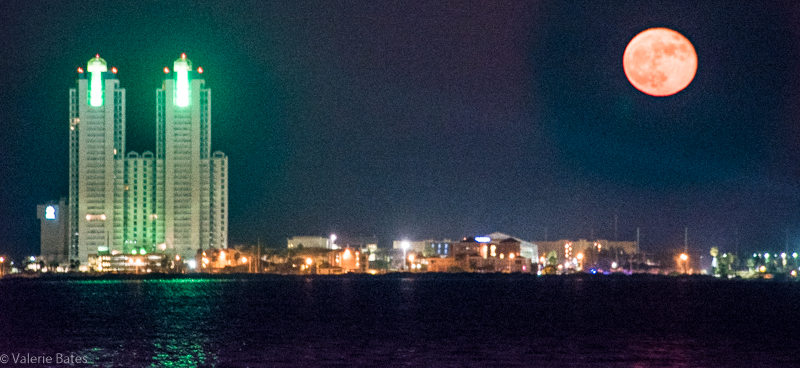 The skyline of South Padre Island across the Laguna Madre Bay from Port Isabel as the Harvest Moon rises on September 28, 2015, 8:09:55 p.m. The Sapphire on the left towers against the sky but is almost dwarfed by the incredible size of the Harvest Moon.
Over the course of two evenings I took these photos from the shoreline of Port Isabel, Texas, in Cameron County, in extreme south Texas.